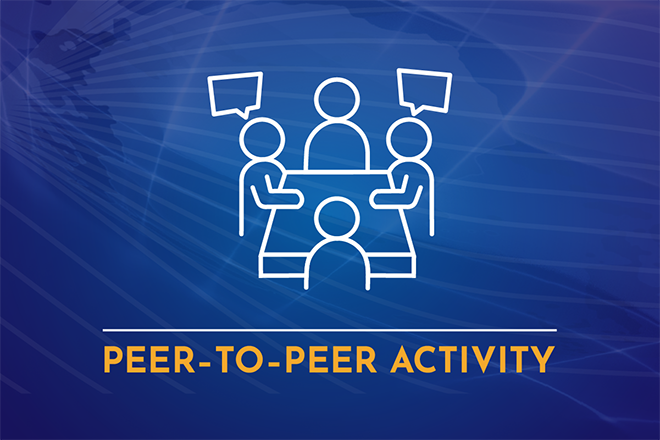 DMF offers various peer-to-peer learning programs to serve as an impetus for successful reform implementation.  These include the Debt Manager Practitioners' Program (DMPP), the DMF Stakeholders' Forum, and the Debt Manager's Network, which provide opportunities for countries to share learnings and experiences with peers and hear how other countries have tackled similar challenges, use lessons learned, and apply them in their own country context.
For further information about any Peer-to-Peer learning program please contact: dmf@worldbank.org
FEATURED
Debt Manager's Practitioners' Program (DMPP)
The Debt Manager Practitioners' Program enables government officials from debt management offices in eligible countries to be seconded to the WB for three-month assignments. The program offers the unique opportunity to strengthen skills through exposure to a range of activities from the DMF's work program and to other DMF eligible countries.
More about DMPP>>
"The decision to join the Debt Management Practitioners' Program (DMPP) program proved to be one of the best decisions I have made for my career progression. Prior to coming to Washington, D.C., I set my goal to build an expertise in working with the MTDS tool. After completing the​ program, I became fully equipped to prepare, implement and review the debt management strategy in my home country (Tonga)."

Aivi Sapele Fakahua is Chief accountant and Supervisor,

Debt Management Unit, Ministry of Finance, Tonga.
DMF Stakeholders' Forum
The annual DMF Stakeholder's Forum brings together senior debt managers, economic policymakers, academics, members from international organizations, market participants and independent consultants to discuss strategies and policies to manage debt, assets, risk, and funding as well as to share experiences and network.
Past DMF Stakeholder Forums>>
"The program that I attended at the World Bank was quite helpful to me to grasp the latest knowledge with regards to debt management and best international practices…. I think my country and myself both benefitted from the program that I attended."

Yasantha Weerasinghe,

Deputy Superintendent in the Public Debt Department of the Central Bank of Sri Lanka- 2018 DMF Forum.
Debt Managers' Network
The Debt Managers' Network is a community of government debt management practitioners aimed at sharing experience, exchanging information and helping to foster peer learning through virtual meetings for information sharing and discussions. The program has offered varied webinars over the years on topical debt management issues to share knowledge and build lasting capacity.
Past Debt Managers' Network Webinars>>
Debt Managers Workshops
Targeted, two-day workshops bringing together debt managers from a select group of countries to focus on one specific topical debt management issue and share their experiences. Under World Bank facilitation, the country representatives discuss their current challenges and methodologies about the topic and produce a knowledge sharing document to summarize the learnings.
Innovative Programs
The DMF leads innovation to expand outreach beyond Ministries of Finance and Central Banks to include key stakeholders with a role in debt management: parliamentarians and auditors. As parliaments play formal roles in approving and overseeing management of public debt, the Parliamentarians Outreach pilot program allows to directly support debt management capacity building for Parliamentarians through workshop and peer-to-peer events.